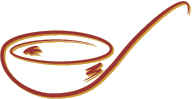 Mamta's Kitchen
Forum Thread - Cassava
You may also reply to this thread.
Page: 1
Author
Message
Bhavna, on 23/10/2006 08:56pm

---

Hi,

I have recently started to buy fresh cassava (as opposed to the frozen variety) and was looking for some recipes. At the moment I just end up steaming it and then coatng it in a bit of olive oil and spices and baking it in the oven.

Whilst this is really tasty - are there any other inspiring ways of cooking it?

Thanx Bhavna

Mamta, on 24/10/2006 06:02pm

---

Hello Bhavna

Search for cassava recipes in Indian Google; http://www.google.co.in

Mamta

Khichri, on 1/11/2006 08:57am

---

Hi Bhavna

Have you ever tasted Tandoori mogo (cassava)? Make a tandoori style paste, and coat and marinate the cassava about 3 hours before (or longer) and cook on barbeque.

Another idea is also to make a tasty masala sauce with sauted onions, green/red/yellow peppers, tomataoes. Make sure there's green chillie, ginger, garlic and some black pepper in it too. Boiled pieces of casava can then be added to the sauce and roasted in the over for a while - this doesn't need to be fresh casava, frozen can also be used. That's nice for a snack or party dish

It can also be made into halwa. Casava flour (pounded cassava) can be used in place of semolina to make a halwa. The colour will be slightly reddish brown when done.

Have fun :-)

Chris Laing, on 4/11/2007 10:57pm

---

Hi everyone!

How about garlic/chilli mogo?

Par-boil the cassava, drain. Cut into chips.

Heat some oil to deep fry and while it's heating, dry-fry plenty minced green chillies and minced garlic.

Deep-fry the cassava as per potato chips.

Drain and toss with salt and the chilli/garlic mixture.

Serve.

Charmx, on 14/5/2011 02:20pm

---

My mum makes it really nice maybe i could ask for her secret recipe and post it onto this? What do you think, should I?

Nkhan, on 24/5/2018 12:35pm

---

Boil cassava after cutting it lengthwise and fry. Sprinkle with salt & chilli powder and squeeze lemon on top. Best mogo ever!

Mamta, on 24/5/2018 06:29pm

---

I have to go to specialist shop t get it, but this sounds good. I should try it.

Mamta
Page: 1
You may reply to this thread.