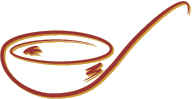 Mamta's Kitchen
Forum Thread - tamarind
You may also reply to this thread.
Page: 1
Author
Message
onlytaste, on 11/5/2006 10:57am

---

I bought myself a pot of tamarind concentrate and I'd like to use it starting with simple simplistic things to start with...any ideas?

Mamta, on 11/5/2006 12:23pm

---

Try Tamarind Chutney You can keep it in a bottle in the fridge for a good few weeks, or freeze it.

If you like hot things, Semolina Puffs with fire water are very popular amongst Indians. You can buy the puffs from Indian grocers ready-made. They are easy but fiddly to make.

Mamta

Sonya, on 11/5/2006 04:36pm

---

Tamarind chutney is nice with jacket potatoes. Cut a cross at the top, squeeze to open up a little, spoon 2 tablespoon yoghurt on top and then a tablespoon of chutney. Very nice indeed!
Page: 1
You may reply to this thread.