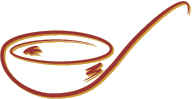 Mamta's Kitchen
Forum Thread - Indian Meal
You may also reply to this thread.
Page: 1
Author
Message
Fordius, on 20/4/2006 07:38am

---

I know purists will grimace but I have purchased a packet "Dhosa" mix and I want to try this out as part of a Vegetarian Indian Meal for 4 people.

Ideally I would like to serve 2/3 different vegetarina dishes with the Dhosa.

Can you please suggest what I cook and what quantities.

Thanks for help in the past

Mamta, on 20/4/2006 09:59am

---

There is no reason why you shouldn't make your life easier by using a Dosa mix.

These things are traditionally served with Dosa;

Coconut Chutney 1 or Coconut Chutney 2

mamta
Page: 1
You may reply to this thread.