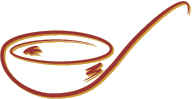 Mamta's Kitchen
Forum Thread - Season\'s Greetings
You may also reply to this thread.
Page: 1
Author
Message
Phil, on 21/12/2005 06:09pm

---

Season's greetings to Mamta and Kavita.

We're doing Ian Hoare's Coq Au Vin recipe for Christmas dinner, having finally procured a cockerel. Thanks for that, Ian.

Cheers

Phil

Kavey, on 21/12/2005 11:34pm

---

Hi Phil

Thanks for your season's greetings - good to hear you'll be trying Ian's recipe over the holidays - it was a lot of work for Ian to provide us with instructions and a lot of work for me to edit it into a more organised and easy to follow recipe so it's good to know it will be used!

Today we added a festive tree to the home page and also dropped in new photographs for many more recipes. We have more photos I'm working on and will add as soon as I can.

Hope all our readers have a great holiday and new year!

Kavita (& Pete)

Mamta, on 22/12/2005 06:58am

---

Hi Phil

I am sure it will come out lovely, do let us know.

Merry Christmas and a Happy New-year to you and yours too.

Mamta

Merry Chrstmas to all of you!

Mamta

Askcy, on 22/12/2005 08:13pm

---

indeed a Merry Christmas to all

Go on which new pictures have been added?...

Kavey, on 22/12/2005 11:39pm

---

AskCy

I haven't a clue!

Once we'd loaded them I moved them from the NEW folder on my hard drive to the folder containing the ones I'd loaded previously.

So I have no way of telling!

Still more to come though!

Mamta, on 23/12/2005 03:09pm

---

Hi Steven

There are many more to come. The quality is not very good, but then I am not a photographer by any stretch of imagination ;-)! They will improve in time, I hope.

Merry Christmas!:-)

Mamta

Ashraf from Brad, on 27/12/2005 07:27am

---

Happy New year to everyone, have a good 2006!

Thanks Mamta, for the recipes that work and thank you for replying to my e-mail questions promptly. I am looking forward to more pictures. Don.t worry about the quality, it is a start. At least they give a good idea of what one is making.

Ashraf
Page: 1
You may reply to this thread.