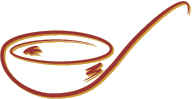 Mamta's Kitchen
Forum Thread - Mamta's Kitchen 10th Birthday Cookery Class
You may also reply to this thread.
Author
Message
Winton, on 15/5/2011 08:16am

---

Well, we had a lovely day!

I had thought cooking fifteen dishes would be ambitious but under Mamta's calm direction everything fell into place and the students cooked two fantastic meals.

For me it was a real confidence booster for planning large meals, picking up numerous tips along the way and learning new skills such as poori and chapatti making. There were many bonuses throughout the day such as exploring Mamta's beautiful and functional garden and a big bag of food to bring home. There is already discussion of having a pickles and chutney workshop!

Many thanks to Mamta and Kavey,

Winton

P.S. Is my certificate in the post? !!

Askcy, on 15/5/2011 08:38am

---

Sounds like a brilliant day !

Steve

Kavey, on 15/5/2011 08:54am

---

Ha haaaa, certificate, that's cute!

THank you SO much for attending, Winton, was such a pleasure to hvae you with us and so glad you enjoyed it...

We've been talking about how to rejig it a little, as we had a little too much to do in morning and had extra time in afternoon, so we'll rethink what we do in what order, but broadly, felt it went pretty well.

Hope you enjoy the leftovers, I reckon that's another huge meal in itself!

:)

x

Mamta, on 15/5/2011 01:36pm

---

Just came back from a bird watching trip this morning and am feeling exhausted! I think yesterday is catching up with me!

I enjoyed the company of people who were eager to learn. It will be nice if they would feed back to me about good and the bad via the contact link above.

Mamta
You may reply to this thread.