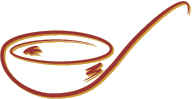 Mamta's Kitchen
Mamta's Kitchen Embroidered Chef's Apron
We are delighted to be able to offer for sale our very own Mamta's Kitchen Embroidered Chef's Apron.
Made by a catering industry clothing specialist, this apron is made of heavy-weight 100% cotton. The corners are reinforced for strength and the anti-tangle ties are long enough to cross behind your back and tie around the front, should you prefer. We particularly like the generous width and length which provide more protection than other aprons we have tried. Even with the (beautifully detailed) embroidery, the apron can still be machine-washed at 40 degrees.
If you'd like to buy an apron in which to strut your stuff in the kitchen, to give to a friend, to hang on the wall as art or just because you'd like to show your support for the Mamta's Kitchen team, please follow the instructions below.
Specifications
Style: Bib Apron
Size: 35" wide x 41" long
Weight: 280 grams
Material: 100% cotton
Anti-tangle ties
Reinforced corners
Manufacturer: Denny's (Wood Harris Ltd.)
Additional Images
Please send us your photos of you or your friends wearing our aprons and we'll showcase them here on the site.
Purchasing
These prices include postage and packaging; please ensure that you use the correct option! If you would like to buy more than 1 apron please contact us using the email link below to enquire about further price savings.
The owners and operators of Mamta's Kitchen, F² Limited, use Paypal to process your order.
Under normal circumstances, we aim to ship within one week - if your order is likely to take longer to be dispatched then we will notify you as soon as possible.
For customers within the EU only, these prices include VAT at 20%